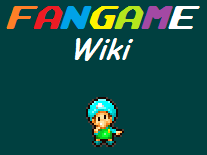 Welcome to My Wiki
Note: JudgmentTH is copying the articles to the new wiki:
http://worldoffangames.wikia.com/wiki/World_of_Fangames_Wiki
. Please visit!
JudgmentTH- "Yo! Didn't think I'd find this here. Since it doesn't have that much views, I (and some other people) decided to expand it. We hope to do a lot for this wiki! Stay tuned!"
Aero- "Judgment showed me this place, thanks buddy! I saw some of our games that we (well, mostly I) all know and love, and I thought, hey, why not fix 'em up? See ya!"
Dibfan765-I apperciate the help guys lets get this wikia out there Spread the Word!
Latest activity
Edit
Ad blocker interference detected!
Wikia is a free-to-use site that makes money from advertising. We have a modified experience for viewers using ad blockers

Wikia is not accessible if you've made further modifications. Remove the custom ad blocker rule(s) and the page will load as expected.